Dinner time tantrum management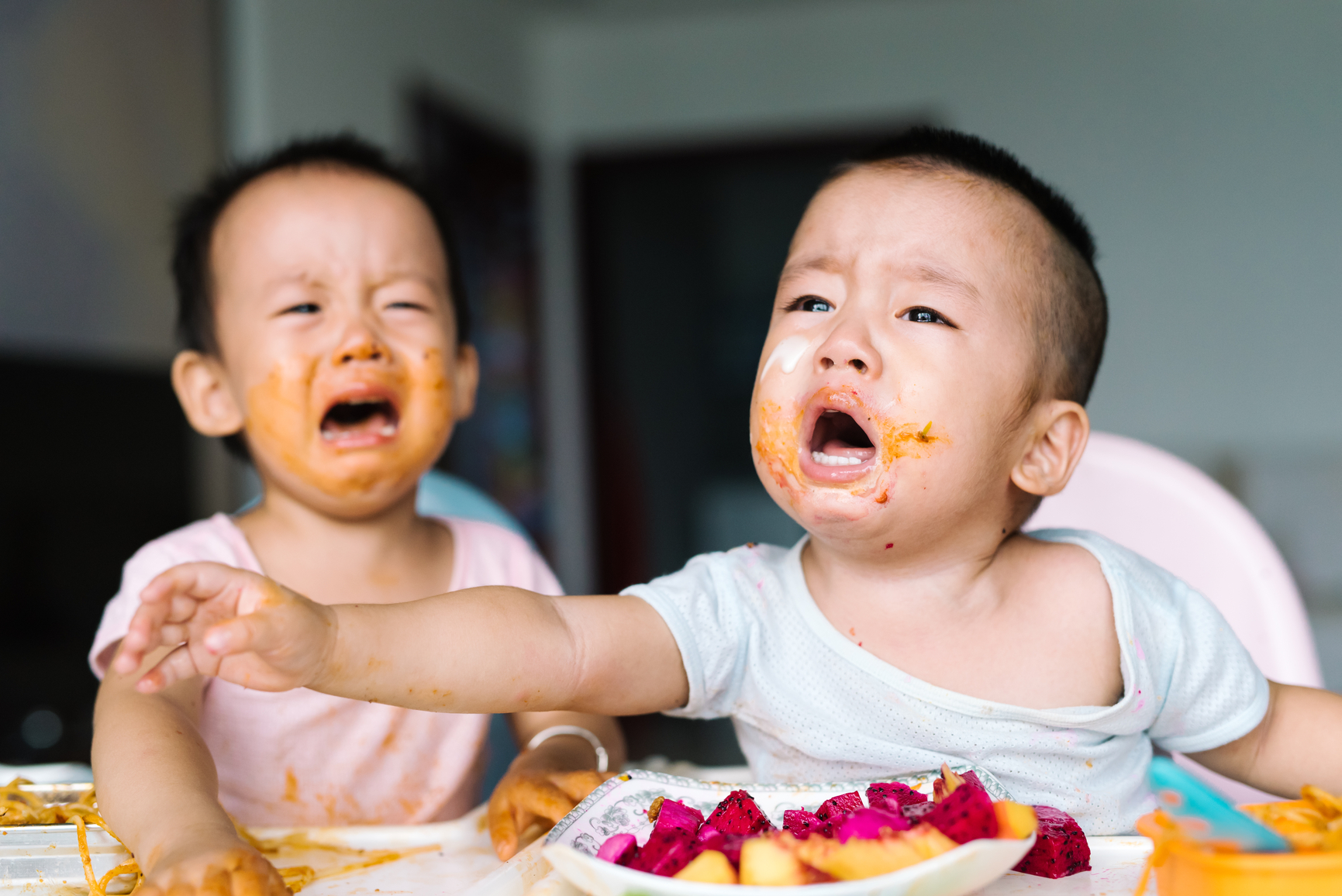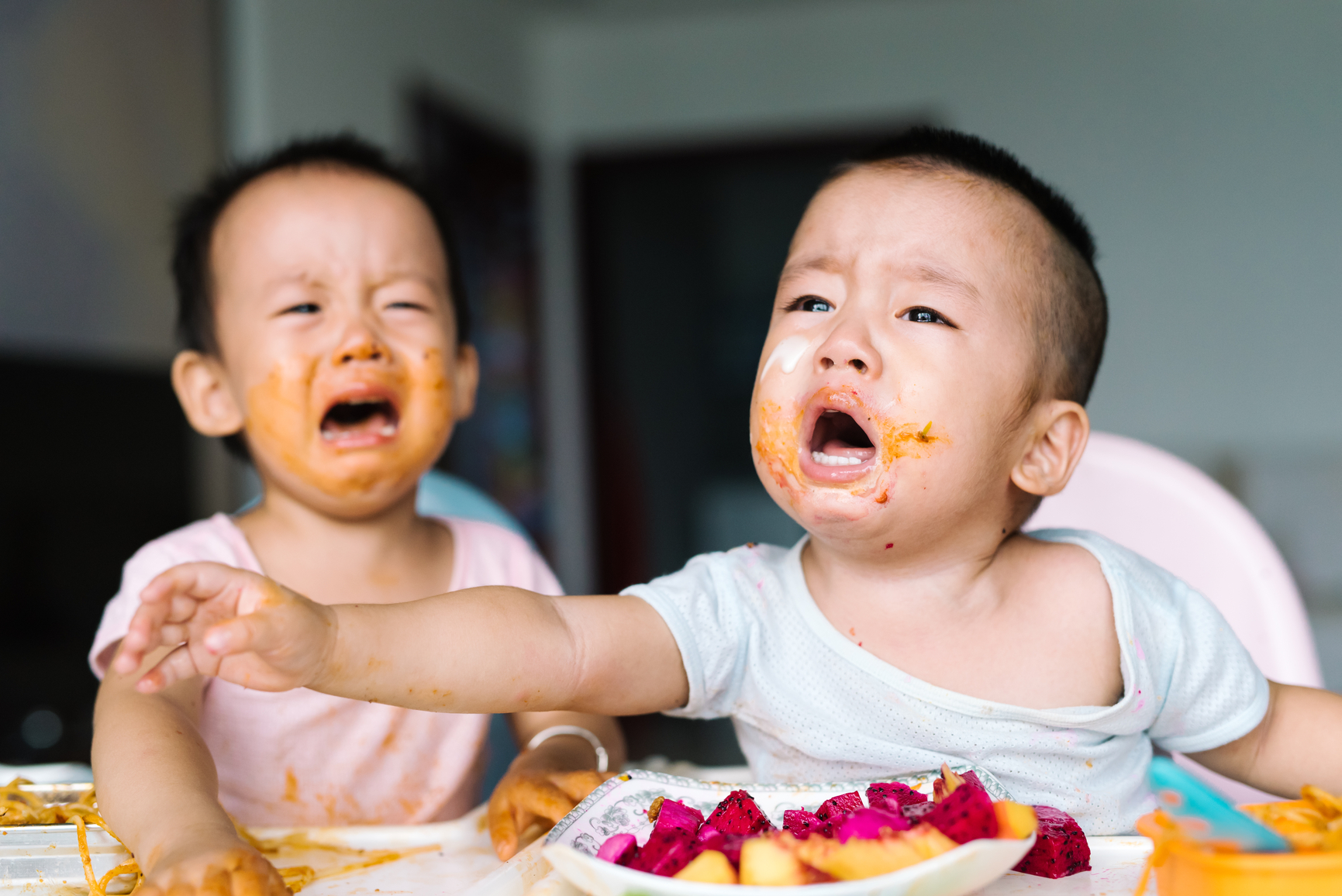 Dinner time tantrum management
Are you nervous about dinner time?
Baby throws his food on the floor, screams and sulks at the food on his plate? All parents experience these little hazards at mealtime! Several strategies can be put in place to relax the atmosphere, depending on the child's age.
Between 6 and 12 months
This is still the beginning of the child's discovery of food. Your baby throws food on the floor because he likes to experiment with this gesture, and see the mess on your floor! He is testing gravity, and maybe defying your patience a little too… It's normal! Avoid quibbling him: instead, put all the chances on your side by placing a tablecloth under the high chair to limit the crumbs on your floor. Offer him less food at once: the more food on his tray, the more your baby will want to experiment and spread it… everywhere! You can also dress him in a baby apron that covers both his arms and legs so he doesn't stain his clothes, or, even better, put him in a diaper on his high chair! With a damp wipe, you can then clean your baby quickly.
Some parents tolerate this kind of mess at mealtime: if you want to let your baby experiment with dirt, go ahead! But if the atmosphere is tense and you're always discouraged at the idea of cleaning, respect yourself and do everything you can to prevent chaos.
Between 12 and 24 months
Your baby's starting to express his needs better. He indicates "no" clearly when he's not hungry, or pushes back and cries when he doesn't want to eat certain foods. Again, nothing abnormal here! Except that for mom and dad who cook good food and want to relax as they eat, it's far from pleasant. You can't avoid this kind of situation 100%, but to help the whole family continue to have a positive perception of mealtime, you can :
Avoid offering new foods too often. Your baby is beginning to have preferences, and it is normal for him to want, for example, his traditional pear puree when you offer him a piece of peach for the first time. A good idea would be to offer him the pear puree at the same time as the piece of peach. He will be more inclined to taste the peach if he already has some of what he wants.
Explain to your child that you understand that he doesn't want to eat this, or that he's not hungry. In the first case, you can control what he eats, while giving him some freedom to choose. For example, if he doesn't want to eat his main meal, show him other options that are nutritious. Introduce him to a homemade yogurt and a homemade patty and ask him what he wants to have to complete his meal. Place the chosen food on his tray next to his main meal (do not remove it). He may end up tasting it, after which you can congratulate him!
If you see that he is really not hungry and the crying persists, don't insist. In this case, listen to your parenting instincts: reassure him by holding him in your arms or turn him over on his play mat… It just wasn't a good time for him!
Sing and play at the table. That's right! Singing and playing at the table wasn't part of your meals before you were parents, but to make it fun and enjoyable for your little love, it's worth a try! Daddy can play giving Mummy bites, Mummy can tickle baby's feet under the table, you can put on music and dance a little to make baby laugh before going back to your plate… Only you know what makes your baby happy!
2 years old and older: the "terrible" early childhood
What happened to your sweet baby? He asserts himself, screams when he's angry, throws himself on the floor, throws his food shouting… It's the beginning of early childhood! This is the period when your child wants to develop his autonomy and is resistant to everything that is imposed on him, including the contents of his plate! Don't worry: you are the parent, and you still need to have control over the food served and meal times. At this age, it is advisable to set your limits and intervene with an iron fist in a velvet glove…
Let's say you sit your child down at the table and he gets very angry that broccoli, rice and chicken are on his plate. He lets you know it's not what he wants, and points to the cereal box. Here are some examples of how you can intervene:
Tell him that tonight's dinner is what's on his plate. If he is not hungry, reassure him that he has the right not to eat, and that he will still have a snack later.
He should wait until Mom and Dad have finished eating before leaving the table. Let him know that it's time to eat, and toys are for later!
Encourage him to taste, but don't force him. Reassure him that if he doesn't like it, he doesn't have to eat it, but it's important to taste it!
Tell him that yelling and screaming at the table is not pleasant, and that it won't make him get his cereal. If he's hungry for a snack later, he can have it.
Set an example: be calm but firm. Try not to raise your voice, too! Name his anger and welcome it. Show him that you understand his frustration, but that you're deciding what to eat and that even if it's unpleasant for him right now, it will pass.
What is most important when you do mealtime interventions at this age is the consistency and agreement of both parents about what needs to be done. Agree beforehand on the strategy to implement, and persist: in the long run, everyone will be a winner!